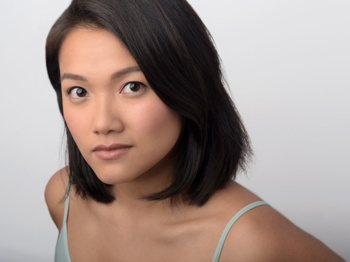 Dorcas Leung
About the Show
'Performing this score has expanded my view of music in so many ways as an artist.'
The wait is finally over—Hamilton opens at the Hobby Center on April 24. As a Broadway at the Hobby Center subscriber, you will be in "The Room Where It Happens." Performing as a member in this national touring company is Dorcas Leung—a former Houstonian!

We are thrilled to have coming to Houston as part of the national tour of Hamilton, which is a homecoming for you! Can you tell us a bit about where you are from, where you went to school and where you performed previously in Houston?
I am thrilled to be returning home with the tour! I was born in Hong Kong but moved to Houston at age six. I attended Wilchester Elementary School, Memorial Middle School and Stratford High School—all a part of Spring Branch ISD. After, I went to the University of Oklahoma's Weitzenhoffer School of Musical Theater for my BFA. Soon after graduation, I made the move to New York City. Professionally, this will be my first time performing in Houston! But I had plenty of experience at my high school with Stratford Playhouse.

Where did you get your start and who inspired you to become a performer?
I attribute so much of my interest and love for theater to my high school, Stratford. They cultivated an incredible theater program that encouraged me pursue this career. The teachers there pushed us to be better in our craft while also teaching us communication skills and the importance of respect. But...also Jim Carrey!

How did you come to be a part of this tour?
My experience with auditioning for this show is definitely an example of "Good Things Come To Those Who Wait". I originally auditioned for Hamilton at the Public in 2010. Then again, the following spring for the Broadway transfer. Then again, for the first national tour. Then again, for the second national tour. And then, after 11+ auditions, I was cast in the first national tour! The audition process is really in-depth but well worth it.

Can you tell us a bit about your role in this production?
My role in the show is the Schuyler Sister Standby. That means I perform in the show when either Eliza, Angelica or Peggy/Maria are not able to. I could know about these performances weeks in advance or sometimes 30 minutes before the show begins.

What is one thing you would want Houston subscribers to know about Hamilton before it hits the Hobby Center stage?
Hamilton is the perfect blend of old and new. It tells the historical story of an immigrant forming the beginning of the country we are in and changing through now. As a piece of art, it has changed the game of musical theater and how stories are able to be told in theater. I would say, I'm incredibly excited for Houston to be able to experience this!

Hamilton features a score that blends hip-hop, jazz, blues, rap R&B and Broadway...and it moves fast! What is it like performing this unique style and how do you remember all those lines?
It is such a special experience. These songs are bops! They simulate so much of what we hear on popular radio but still own that we are telling a story with our words and music. Performing this score has expanded my view of music in so many ways as an artist. For memorizing everything—practice makes perfect. There's no secret to memorization except to rehearse.

Audiences have such high expectations when they come to see Hamilton—does that bring added pressure, or conversely less pressure to your performances, because people are so in love with it already?
What I love about being on tour with Hamilton is that each performance is an isolated and special experience. While we may be doing eight shows a week for four weeks in Houston, every show will be unique. That uniqueness can be attributed to the shared energy we have with the audience, their reactions to certain points of the show, or even what kind of weather or climate we are performing in that day! What doesn't change is the story we are telling. Knowing that we have such a strong base of supporters in every audience makes it less pressure. No matter where you are seeing Hamilton, whether it be in New York, London, Chicago or on tour—we are excited to share the story, excitement and love that people have for this show.

Is there anything you are particularly excited to do or see when you are back in Houston?
EAT! Houston has such a diverse food scene, and I cannot wait to indulge in my old favorites but also get to know Houston again as an adult!