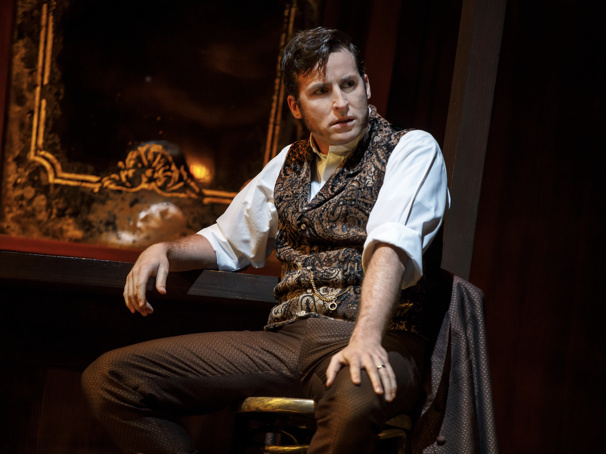 Sean Thompson as Raoul in 'Love Never Dies'
(Photo: Joan Marcus)
About the Show
'Love Never Dies' is a true celebration of what 'Phantom' means to so many people worldwide.'
Andrew Lloyd Webber's Love Never Dies, the spellbinding sequel to The Phantom of the Opera, continues the story of some of musical theater's most beloved characters. Sean Thompson, who plays Raoul, gives us insight into his character and what to expect when the show takes the Hobby Center stage July 17 through July 22.

In Love Never Dies, we catch up with Raoul ten years later. What has happened in the life of Raoul and Christine during this period and where do we find him as this new story begins?
Christine has now become an international opera star. She and Raoul have a 10-year-old son. Their life should be happy, but unfortunately, Raoul is haunted by the couple's tumultuous past and has turned to drinking and gambling, a habit through which he has lost most of their family's money. Once the magnanimous, rich patron of the Opéra Populaire, Raoul now struggles and tries his best to be who once was to Christine, who he truly loves.

This is your second Andrew Lloyd Webber production, after making your Broadway debut opposite Glenn Close in Sunset Boulevard. What is it like performing in works by such a Broadway legend?
It certainly makes one feel like they've made it! To be honest, I used to hang out in my bedroom as a child and sing along to the original Phantom album, dreaming that I'd one day be up on a stage performing such entrancing music. I haven't done Phantom yet, but—as you mention—I have had the unbelievable opportunity to do Sunset Boulevard, and with a 41-piece orchestra! In short, dreams do come true.

The Phantom of the Opera is a beloved story and has a large and passionate fan base. Does this add a bit of pressure for you as an actor performing in its sequel?
It adds a little pressure but it's mostly so exciting, especially as a Phantom "phan," to celebrate such a legacy with our awesome "phans" who see us sometimes six, seven times in one city! Love Never Dies is a true celebration of what Phantom means to so many people worldwide.

This sequel has quite the change of scenery from a Paris Opera House to Coney Island in 1907. How does this inform the story and its continuation from Phantom?
It's fun to imagine: if you were the Phantom, where would you go to hide? In 1907 Coney Island, life was weird, the strange was in fashion. Unusual entertainment was what was in vogue and through it, people were, I imagine, encouraged to be the truest, freakiest selves. It makes sense to me that the Phantom found home in such a place. As for Raoul, an aristocrat with breeding and formal training, Coney Island might be the perfect place to put him if one were looking to make him feel like an outsider.

What is one thing you would want Houston subscribers to know about Love Never Dies before it hits the Hobby Center stage?
There is so much to look at and, of course, so much beauty to hear. Sit back, take it all in, and come back again to catch even more of the thrills that make up "our Monster's Ball."

Have you ever performed in Houston before? Is there anything in particular you are looking forward to doing or seeing while you are here?
It will be my first time in Houston, aside from layovers at Bush International. I honestly don't know what to put down on my sightseeing list, but am gladly accepting recommendations.